De Nederlandse Bierfles
One of the most known Nederlandse bierfles (Dutch beer bottles) is the BNR. This acronym that stands for Bruine Nederlandse Retourfles is translated, in English, to brown Dutch returnable bottles. In the Netherlands, this type of bottle allows brewers to reduce waste by interchanging and reutilizing beer bottles. This sustainable practice is accessible to all breweries as long as they were granted permission from Dutch Brewers to participate. Considering that breweries will be welcomed to join provided that they agree to the conditions set by the Dutch Brewers, obtaining permission winds up to be rather effortless. Thanks to this practice and its accessibility, the same bottles continuously remain in circulation with minimal need for the production of new bottles.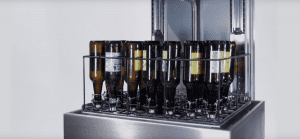 This arrangement is known as the BNR bottle pool. It was created to help breweries in the Netherlands decrease their necessary purchases and, therefore, save money. At the same time, the creation of this new bottle standard made it easier for consumers to return their bottles as they could now do so at any supermarket that sold bottles from associated breweries regardless of their labelling. To this day, the pool still operates.  
To make the interchanging of bottles possible, brewers need to conform to specific routines and requirements. When brewers receive their crates of variously branded used bottles from the supermarkets, the beer bottles must be thoroughly cleaned and inspected. Any defective bottle will be removed from the pool and approved bottles will be re-labelled and filled for a new life on the market. 
It is obvious that this arrangement revolves around the trust that associated breweries will give their bottles adequate cleaning. This can be a lengthy and complex task especially when so many receptacles are involved but is made easier by technology. Efficient machines like Aquatech-BM's bottle washers will allow breweries to save even more time and money by washing from 450 to 600 of their bottles per hour. Moreover, with its low water consumption, this eco-energetic machine will make the already sustainable practice that is the bottle pool even greener.    
Control contamination wisely with Aquatech-BM's easily operable technology.